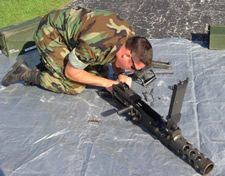 TSO provides, general studies and antiterrorism/ security force curriculum, training, role player support services, and consulting for several branches of the military at facilities around the world.
Our staff instructors are highly-qualified and experienced veteran operators, who are committed to improving the general educational job skills and security of the United States. Each trainer has a first-hand understanding of what's needed for the mission and leverages their experiences to share valuable knowledge with students.
Whether you would like implementation of an existing curriculum or development of a new program to meet changing needs, TSO can quickly and efficiently do the job.
Military Training Areas:
General education (By rate/Job code)
Mission Planning
Small Unit Tactics
Tactical Handgun (Basic, Intermediate, Advanced)
Tactical Rifle (Basic, Intermediate, Advanced)
Weapons Transition
Close Quarter Combat (CQC)
Use Of Deadly Force
Force Protection Search Procedures
Defense-In-Depth Planning and execution
Antiterrorism Tactics, Techniques, and Procedures (TTP)