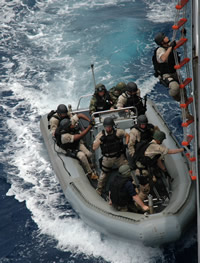 There are unique considerations and challenges that must be addressed for all operations in and around maritime environments. These situations call for an entirely new set of tactical and survival skills. Maritime operations are sometimes referred to as "fighting in a phone booth." In addition to the tight quarters, there are also open decks which call for teams to use the specific elements they're given. These specific skill sets are TSO's expertise. Using a common sense approach, the experts at TSO will teach your team how to best utilize the elements they're given to carry out the mission safely and effectively.
TSO specializes in maritime training for all skill levels. We have an exceptional track record of high impact, high quality tactical maritime training service support to the US Navy.
Our goal is to increase the operators' (military, LE, security guards, etc.) readiness during high risk situations by improving proficiency in challenging maritime operations. In additiona to large ship or military vessel training, we can provide civilian style craft for exercise scenario development and role play. This type of training aid provides realism and overall enhancement of the training received. There is no substitute for the experience gained during scripted, controlled and risk managed "hands on encounters."
Added Value
Maritime training broadens individual skills and greatly increases effectiveness and efficiency during real operational situations.
Trained individuals can adapt and act within a team environment, providing cohesive team solutions to problems.
Well trained teams are not surprised by new, different or arduous situations. They produce solutions!
Maritime Skills Training May Include:
Maritime Interception Operations Overview
Water Survival Swimming
Mission Planning (Full Mission Profile)
Boarding Operations
Maritime Information Gathering
Small Unit Tactics
Small Boat Operations and Tactics
Tactical Handgun (Basic, Intermediate, Advanced)
Tactical Rifle (Basic, Intermediate, Advanced)
Weapons Transition
Use Of Deadly Force
Rigid Inflatable Hull Boats (RIB) (Basic, Intermediate, Advanced)

11 Meter RIB
Naval Special Warfare (NSW) RIB
RIB Coxswain
Navigation and Radar
Small Boat Weapons Tactics

Riverine (Basic, Intermediate, Advanced)

Boat Crew
Command and Control (C2)
Radio Procedures

Special Warfare Combatant Craft (SWCC) Boat Captains