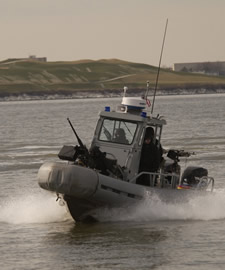 TSO offers consulting and training services for homeland security of local, state and federal governments.
Our site assessments for High Value Assets (HVAs) are well-regarded within the field, due to our tremendous attention to detail. We scrupulously examine each port or facility for all potential threats, studying the enemy's resources and assessing the client's vulnerabilities. We then suggest mitigation to limit these threats on your assets, ports and piers.
We offer training for the basic fundamentals to the advanced tactical skills of homeland security. Whether you need us to implement your current curriculum or develop a personalized training program and course, TSO, Inc. can quickly and efficiently meet your requirements.
Homeland Security Training Areas:
Vulnerability Risk Assessment
Self-Defense Skills
Tactical Handgun (Basic, Intermediate, Advanced)
Tactical Rifle (Basic, Intermediate, Advanced)
Weapons Transition
Use Of Deadly Force
Defense-In-Depth Planning and execution
Role Player Support Services
Antiterrorism Tactics, Techniques, and Procedures (TTP)