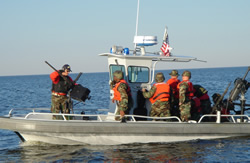 TSO provides consulting services specifically designed to meet the client's needs.
TSO provides thought leadership, technical expertise and operational capabilities in specialized areas critical to the welfare of the warfighter's mission. Our unique knowledge and technical proficiency spans maritime security operations; safety and security audits and assessments; doctrine and curriculum development.
We have experience meeting explosive ordnance disposal (EOD) training needs for customers, rendering the safe, recovery, evaluation, and disposal of explosive ordnance, improvised explosive devices, and nuclear weapons in varied environments including battlefield operations, peacekeeping operations, and in homeland defense.
Our customers count on us for the subject-matter expertise necessary to understand specialized needs and deliver the exact services and support to meet all critical mission requirements. Our innovative solutions help our customers defend the nation, protect citizens, safeguard property, improve performance and increase efficiency.
Contact us today for more information about our consulting services.