Mission Statement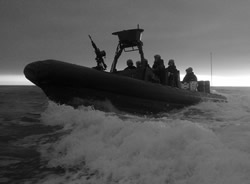 Our mission is to strengthen the security of our nation and allied nations by providing the best training and instructional support to help the war fighter meet the demands of the maritime and land operational environments. We assess, analyze and adapt to best satisfy the client's actual requirements.
TSO, Inc.'s core competencies; Training, Education, Leader Development and Consulting Services. We offer all clients a unique blend of operational expertise coupled with a practical and common-sense approach to mission focused training solutions.
TSO has an exceptional track record of high impact, high quality tactical maritime training service support to the US Navy. This has significantly advanced the recognition of our expertise in providing shipboard Visit Board Search and Seizure (VBSS) training and related operational equipment. We have a unique understanding of the challenges presented by the maritime environment and the tools required to execute that mission safely and effectively.
TSO's recognized success has come through multiple contract awards, including but not limited to: US Navy Security Forces Instruction Support; Joint EOD School Instruction Support; US Navy and USCG pre-deployment tactical training and evaluator services,; and US Navy Construction Battalion and US Army Intelligence Company's pre-deployment tactical training.
Capabilities
TSO possesses broad and extensive expertise in the full spectrum of maritime security operations to include design, implementation, and delivery of antiterrorism and security force tactical training, role player support services, and threat mitigation solutions to detect, deter, defend, and defeat terrorism worldwide.
TSO's distinct training competencies include:
Antiterrorism and Force Protection
Maritime and Security Training
Law Enforcement Training
EOD Training
Coast Guard Captain's Licensing
Small Boat Training
Crew Served Weapons Training
Linguist Instruction